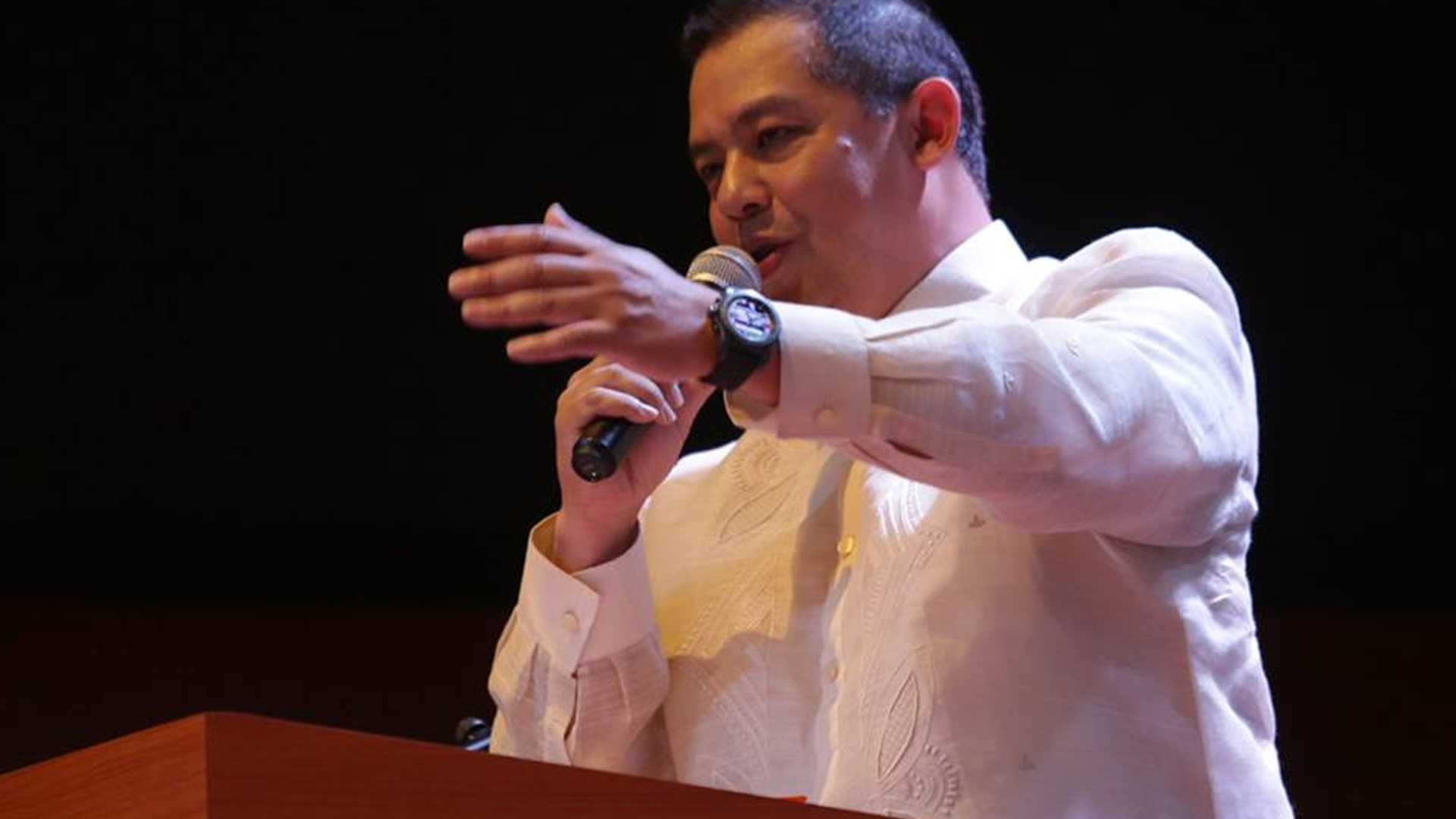 Several lawmakers from the House of Representatives lauded President Rodrigo R. Duterte's fourth State of the Nation Address (SONA), and expressed full support to the legislative agenda laid forth by the Chief Executive.
Newly-installed House Majority Leader Martin Romualdez said Duterte's SONA was straightforward and direct to the point.
"I congratulate President Duterte for another powerful speech about his renewed commitment to good governance and intensified campaign against corruption," he said.
The Leyte lawmaker vowed that the House, under the leadership of Speaker Alan Peter Cayetano, will work on long-term solutions aimed at addressing the nation's serious ills such as poverty, illegal drugs, peace and order concerns, lack of infrastructures and corruption, and the need to create the Department of Disaster Resilience,
"As I previously stated, we will work double-time to act on the President's priority bills, especially those aimed at improving the lives of our people," Romualdez said.
"I assure the country's economic managers that Congress will align its legislative agenda with President Duterte's priority economic bills, which aims to cut poverty almost by half in 2022," Romualdez added.
In his address before the Joint Session of Congress, Duterte urged Congress to pass the second tranche of his administration's tax reform measures, known as the TRABAHO Bill, the valuation reform bill, and the alcohol excise tax bill.
He also urged Congress to pass a new Salary Standardization Law that would increase the salaries of government workers, including teachers and nurses, and the National Land Use Act.
Aside from creating a Department of Disaster Resilience, Duterte also called on Congress to pass a series of measures, which would create a Department of Water Resources, Water Regulatory Commission, Department of Overseas Filipino Workers, and a National Academy for Sports.
Quezon City Rep. Alfred Vargas also thanked Duterte for giving Congress a marching order to pass a law creating a Department of Disaster Resilience.
The lawmaker noted that the House of Representatives has already passed on third reading House Bill 8165 establishing the Department of Disaster Resilience in the 17th Congress.
The proposed measure was sent to the Senate on October 2, 2018, but for lack of material time, the Senate was unable to approve its own version.
"With 160 first-termers in the 18th Congress now, they would naturally want to have their say on legislation during committee hearings and plenary debates. But I am hoping the Disaster Resilience Department bill will not encounter delays, especially now that it is certified as urgent by President Duterte," Vargas said.
Meanwhile, Iligan City Rep. Frederick Siao expressed full support for Duterte's call to re-impose the death penalty for drug-related crimes.
In his speech, the President noted that after three years since he took office, the problems on illegal drugs and corruption continue to persist despite the administration's moral recovery initiatives.
He stressed that illegal drugs will not be crushed unless government continue to "eliminate corruption that allows this social monster to survive."
"I respectfully request Congress to reinstate the death penalty for heinous crimes related to drugs, as well as plunder," Duterte said.
Siao, who hails from Mindanao, said he strongly favors the imposition of the death penalty on drug lords, syndicate bosses, and protectors.
"We have many of these in Mindanao and our local government units need the help of the Department of the Interior and Local Government, National Bureau of Investigation, the Philippine National Police and the Philippine Drug Enforcement Agency to eradicate them from Mindanao, city by city, town by town," he said.
However, the lawmaker said there is also a need for a systematic approach — a package of bills, with the death penalty on drug lords, syndicate bosses and protectors, as one of the crucial components.
"Knowing the flaws of the law enforcement, prosecution, judicial, and penology-correctional pillars of our justice system, we also need better trained and better equipped law enforcers, a national crime laboratory system, special courts for handling drugs cases, and thorough cleansing and reform of our jails and correctional facilities," Siao said.
Pacman Partylist Rep. Mikee Romero lauded Duterte's call for public support to his administration's anti-corruption campaign.
"The anti-corruption campaign is no longer the concern of government alone. By enjoining the public to rebel against corrupt officials and graft-ridden agencies, President Duterte underscored the importance of our people's cooperation in cleansing the bureaucracy," he said.
"Congress should do its part by giving concerned Filipinos ample protection against all possible backlash to their effort to contribute to the anti-corruption drive," Romero said.
However, the leader of the partylist coalition in the House said the passage of legislative measures that would fast track the resolution of pending graft cases without sacrificing fairness and due process is also imperative.
"Other bills that will contribute to the President's good governance objective deserve to be on top of the legislative priorities of Congress," Romero said.
An avid sportsman, the lawmaker said he is also in favor of the National Academy of Sports concept that Duterte had asked Congress to establish.
"We need the national academy to attain our Olympic dreams. We will have a national academy on top and regional units that are geographically close to the people. This national academy can be the prototype for a sports university," Romero said.
Bagong Henerasyon Partylist Rep. Bernadette Herrera- Dy said she would ask the House leadership to convene the concerned agencies at the earliest possible time to tackle the bills on water, including her bills on the creation of a Department of Water Resources and a Water Regulatory Commission.
"There are also pending bills about watersheds, water storage, and water systems. We will sort through those proposed laws and expedite them now in the 18th Congress," she said.
"For operational matters, the Water Regulatory Commission can be empowered to level the playing field for both consumers and service providers and authorized to penalize the franchise holders for prolonged and large-scale service interruptions," Herrera-Dy said. (PNA)
facebook.com/iamMartinRomualdez